If you have timber flooring in your home and would like to do something different from the usual finishing and staining, perhaps you may like to try a white lime wash on your floorboards.
Liming produces a lighter, white-washed wooden floor effect which is equally as beautiful and modern as other stains and finishes. It is a particularly good choice for small spaces, which benefit from a lighter, brighter look to obain the illusion of more space.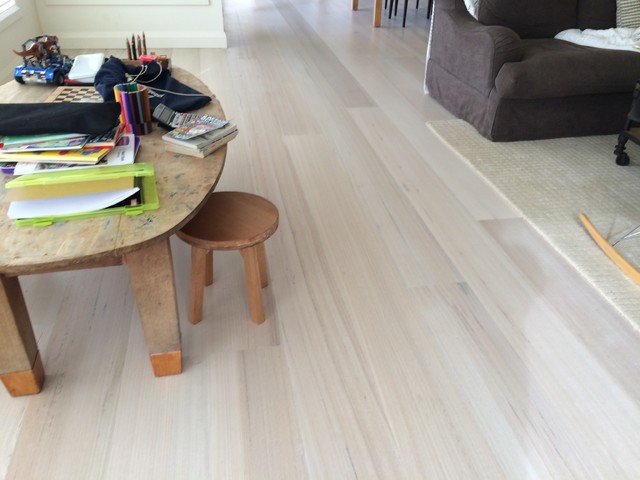 We apply several layers of lime to the floor, depending on the degree of whiteness you desire. After just a few layers of lime, you can expect your floor to have a more translucent light tone while keeping the appearance and texture of wood. A white lime wash will not detract from its original character. Nor does it create a single colour block: just as the wood itself varies in tone, so too does the lime wash effect achieved through using this method on your flooring.
And rather than producing a single layer of finish on the surface of the wood, our thorough lime washing method soaks deep into the wood, so that any scratches to the floor reveal the same tone as on the outer surface.
With more than a decade of experience in all things to do with timber flooring, at 5 Star Flooring, we ensure to use only the best quality lime wash, utilising our specialist, finely honed techniques. We aim not only to produce a beautiful-looking lime washed floor, but one that is impervious to wear and damage for longer.
At 5 Star Flooring, we provide our timber flooring services right across Sydney, the Northern beaches, and also Wollongong and Campbelltown. With over a decade of experience in all aspects of the trade, we can provide expert advice, as well as a top-quality result using the correct products and techniques required, according to each individual case. And we offer this at very competitive rates.
Contact our family owned and run business to discuss the lime wash technique more and find out if it is right for you. We are happy to give you an indication of the expected result by showing you samples and encourage you to consider this type of flooring method for your home or business premises.
Call us at 5 Star Flooring today.