When selecting a suitable service for floor polishing, Sydney residents and business owners can deal with seasoned experts who do the job right using the right techniques and delivered at the right price:
5 Star Flooring.
You have chosen polished timber floorboards for your home…
Your existing flooring has been removed…
Your existing floorboards have been repaired and sanded…
Your floor is clean, dry and ready for polishing.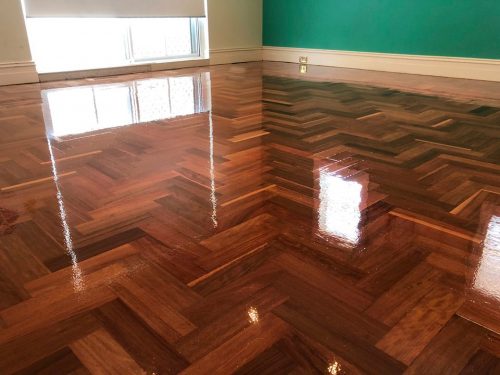 Did you know that applying the wrong polish to your wooden floorboards can cause bending, cracking, edge bonding or clumping?
When selecting a polish or finish for your timber floorboards, take into account these factors:
The age of the floorboards
Floor Use – such as high-traffic office or shop; yoga or dance studio, etc.
Style – the look you would like for your floor – matt, gloss or satin
Climate – such as excessive humidity, heat or use of air conditioning
Season – if not treated correctly, floors which are laid in winter may crack in summertime
The type and size of timber floorboards. For instance, wide, thin floorboards require a different treatment than narrower, thicker floorboards.
After you have considered the above-mentioned factors, you can then select a finish:
– This type of finish adheres to the top of floorboards, forming a clear, protective coating on the wood. Due to its durability, water resistance and being low in ongoing maintenance, it is one of the most popularly used finishes.
– Penetrating finishes (either waxes and oils) are absorbed, so they protect the timber from within. Waxes have a high-gloss appearance and oils achieve either a satin or matt look. Both waxes and oils have different purposes.
– Composition finish is another coating providing strength and allowing movement in the wood while maintaining great durability.
There are advantages and disadvantages to every one of these finishes. One of our experienced flooring experts can assess your floors, discuss each option in detail, and give personalised recommendations for your needs.
It is best not to guess what is needed for your floor. By using the appropriate floor polishers for the floor you have, you could be saving yourself money in the long run by ensuring the best possible maintenance in between more involved work i.e. floor sanding.
So be sure to contact us today at 5 Star Flooring to find out more.