A timber deck contributes to your enjoyment of your house as well as to its market value. But if it is not maintained adequately over time, it can deteriorate rapidly.
Deck sanding, along with fresh staining is the best way to protect your deck and maintain it in top condition throughout the year.
It is imperative to properly prepare the wood because omitting steps will inevitably lessen the longevity of a freshly sanded and stained deck.
The 5 Star Flooring process is as follows: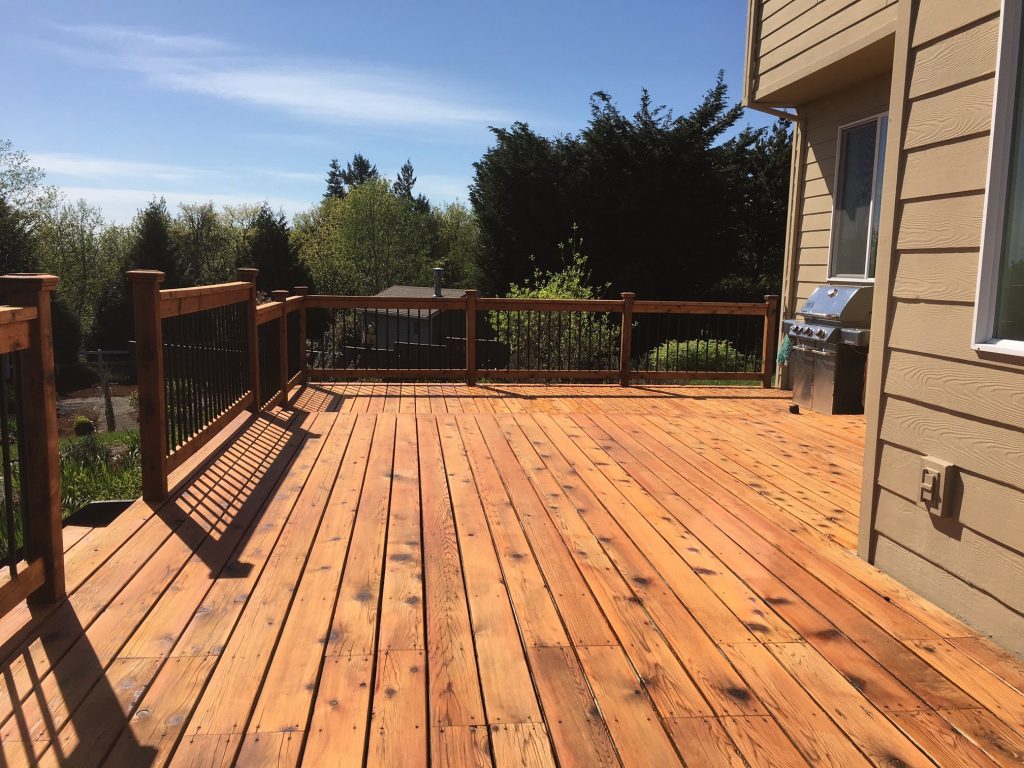 Either a water- or oil-based deck stripper will be needed. This decision relies on the stain that was originally used on your deck. The correct stripper will need to be applied liberally to help with the stain removal.
We use a pressure cleaner to take off the deck stripper and remove any other debris and dirt. Decks containing mildew and mould need additional attention, and these are treated with chlorine bleach cleaners to appropriately prepare the surface for the next step.
Sanding of the deck to help smooth splintered and rough edges is the next stage of the process. Of all the jobs, we most recommend that sanding is the one left for professionals to do. Oftentimes, we see people who attempt to do this part by themselves only to create major damage through using the wrong technique or inferior gear. Inexperience or wrong technique when using high-powered equipment on your deck often leads to noticeable errors, even if small, and fillers will be needed.
Following sanding, the resulting dust needs to be meticulously cleaned. After such thorough cleaning, the deck must be left for a minimum of one to two days to ensure the timber is entirely dry before re-staining begins.
The last step is the application of staining and oiling in order to seal the deck against the damaging effects of the weather, which may cause wood to crack and/or shrink. There is a wide variety of options to select from. At 5 Star Flooring, we normally recommend oil with UV protection which protects your deck and keeps it resistant to mould and fungus.
The entire process is time-intensive, but if done by experts you will enjoy being on your deck, sipping on cocktails a whole lot sooner.
We service much of Sydney's Metropolitan Area including the Northern Beaches and Sydney's Eastern, Inner West and Western Suburbs. And we also service Campbelltown and Wollongong.
So do not delay getting started on your decking. Whether it is existing decking or a brand-new deck, there's never been a better time to enjoy the beautiful outdoors the Australian way.

CALL US TODAY AT 5 STAR FLOORING